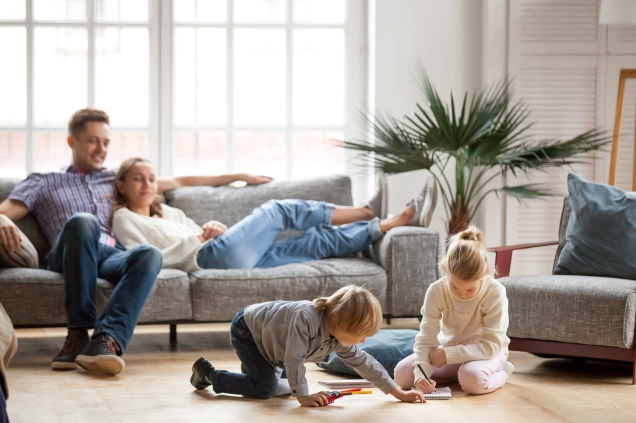 Customer Testimonials
Loretta L.

⭐⭐⭐⭐⭐

We have been purchasing home flooring from Walter's for over 25 years.  Staff there is always professional, knowledgeable and helpful.  Installation work has been performed meticulously and we have had no issues with any of the flooring purchased to date.  Highly recommend this flooring supplier.
John Link

⭐⭐⭐⭐⭐

We had a crew of 6 working here kand they did an excellent job. Removing the old flooring and installing new flooring and carpeting I'd Recommend them anytime. A sharp custom vinyl plank is beautiful, Thanks guys for the job well done!
Linda Paulissen

⭐⭐⭐⭐⭐

I've been using Walters for years! Quality products at affordable prices! Helpful, no pressure, sales and superior installation!
Lois Libby

⭐⭐⭐⭐⭐

Wow! Professionalism, kindness and upbeat service in home as well as in store....every step of the way. Sam in store was tremendously knowledgeable and supportive in helpin helping us find the exact hardwood flooring for our newly purchased West Bend home. The install team of Dean, Peter and Jeremie were considerate of our home, our pets and us as they worked on the job.They were also able to stretch a carpet that was loose and other companies refused...saving us money in stead of replacing it entirely.
We are blessed by the kindness that is alive and well at Walter's. Thank you to all for being an above and beyond place for our flooring needs.
Jordan S

⭐⭐⭐⭐⭐

Price was good. The installers were friendly, worked hard, and quickly got their job done! Carpet looks great!
Jeff Serafin

⭐⭐⭐⭐⭐

Walter's installed carpet in two rooms, linoleum in two rooms, and vinyl plank flooring in a foyer at my house about 5 months ago. My original plan was to buy the flooring at Menard's and get someone to install it for me, but when I got the quote from Walter's, it was way better than I expected, and I figured getting the flooring and install from the same folks would eliminate any problems. Five months later, it all still looks as good as new despite 2 adults and 6 kids in the house 24/7. The install guys were nice and professional and had patience with me when a shutoff valve didn't work (they had to temporarily move a toilet to install the linoleum). They actually offered to swap out the valve for me, not what I would expect from flooring guys. Anyway, an overall very good experience, enough for this guy who never leaves reviews to actually leave a review months after the fact.
D M

⭐⭐⭐⭐⭐

The staff was very friendly from beginning to end. The carpet was a good quality and affordable. Installation staff was professional and did a great job. I would highly recommend Walter's Carpet
Justin Larson JL

⭐⭐⭐⭐⭐

Great at large and small projects. Installed new flooring throughout condo. Had my carpet replaced after seeing that transformation. Steve was helpful and installers represented the company well.
J Nick

⭐⭐⭐⭐⭐

We highly recommend -We were very pleased with Steve, his service call, their pricing, and Dean the tradesman who installed our Mannington flooring. Outstanding team.
G B

⭐⭐⭐⭐⭐

Great staff, selection and prices. Sam is awesome
Scott Bartell

⭐⭐⭐⭐⭐

Great experience working with Sam! This will be our go to place for future carpet and tile needs.
Jerry Zaborowski

⭐⭐⭐⭐⭐

We are very satisfied. Huge product selection, helpful no pressure sales, awesome installation. A great long standing local business!!!
Joe

⭐⭐⭐⭐⭐

These guys did a great job on my house. Very friendly and hard working. Quality is top notch and holding up nicely.
Jane Dean

⭐⭐⭐⭐⭐

Really great selection. Sales people very knowledgeable and made good suggestions. Installers were very professional.
Nick Ebelt

⭐⭐⭐⭐⭐

Helpful and welcoming. Will definitely come back
John Zabinski

⭐⭐⭐⭐⭐

Newer owners. Very helpful. Found what I was looking for.
Marie Antoinette

⭐⭐⭐⭐⭐

Super helpful! Thank you !
David Runyon

⭐⭐⭐⭐⭐

Very helpful, friendly and professional!
Emily Stodola

⭐⭐⭐⭐⭐

Helpful and courteous staff